Drink & Dine
Mosaic Bistro & Bar |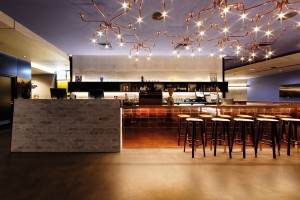 ** Mosaic Bistro will be closed from Monday 23rd March until further notice. A continental breakfast option will be available for in-house guests to enjoy. Neighbouring cafes and restaurants in the Mosaic complex offering a convenient charge back service will still be open.**
Breakfast: 6:30am to 9:00am Monday to Friday.

Dinner: 5:30 to 9:00pm Monday to Thursday.

Bar: Everyday 4pm till late. Serving a wide selection of beverages and light bar menu.
Mosaic Bistro & Bar is a modern contemporary restaurant with a varied and changing menu, offering a congenial and friendly atmosphere, welcoming for families as well as single guests.
A cosy, warm area has been set aside for those who wish to relax, read the paper, watch television, or have a casual drink and chat with friends. Sit by the fire in winter or in the plaza in the sunshine.
Enjoy a full buffet breakfast Monday to Friday. Take-away coffee is available throughout the day.
Our special pizza menu is available on Friday, Saturday an Sundays nights.  Choose from a vast range or order your own combination ($15).
Take a 360˚ tour of Mosaic Bistro & Bar:
---
IN ROOM DINING |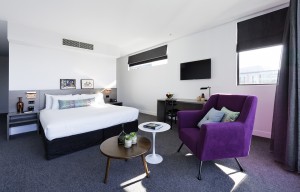 Hours: Available during restaurant hours
A selection of some of the most popular items on the Mosaic Bistro menu is available during restaurant hours. All it takes is a call to the restaurant on 3332 8803
---
VIBRANT LOCAL RESTAURANTS |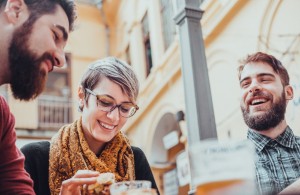 Hours: All day
Fortitude Valley has an abundance of world class dining options for you to enjoy. Guests can simply charge food and drink bills at a number of great venues back to the hotel room account, making payment for all at the end of your stay nice and easy. Neighbouring chargeback venues include: Happy Boy, and Mr Chester Wine Bar . Find out more here.
---
Restaurant DELIVERY SERVICES |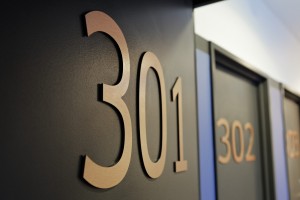 Hours: Available During Restaurant Hours
An extensive array of cuisines to satisfy whatever your taste buds desire from local restaurants delivered to the Alpha Mosaic Hotel Fortitude Valley for your convenience. Made possible by simply contacting the helpful hotel reception staff.